Product


All in one Table type cnc plasma steel plate parts cutting machine with drilling torch head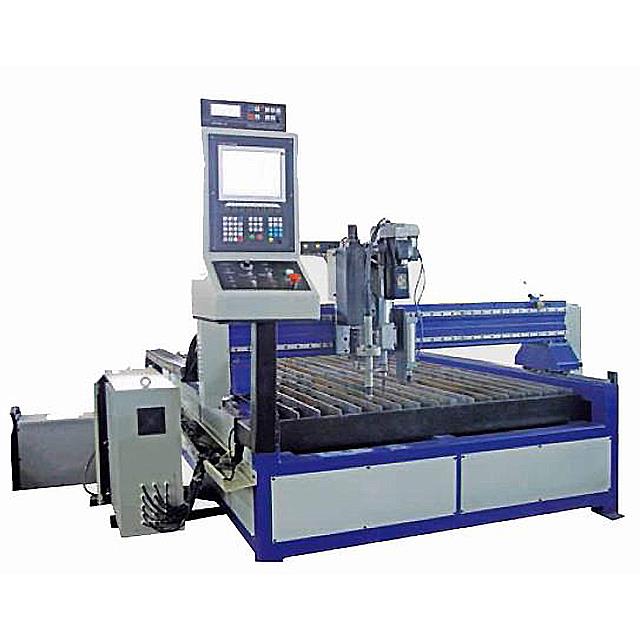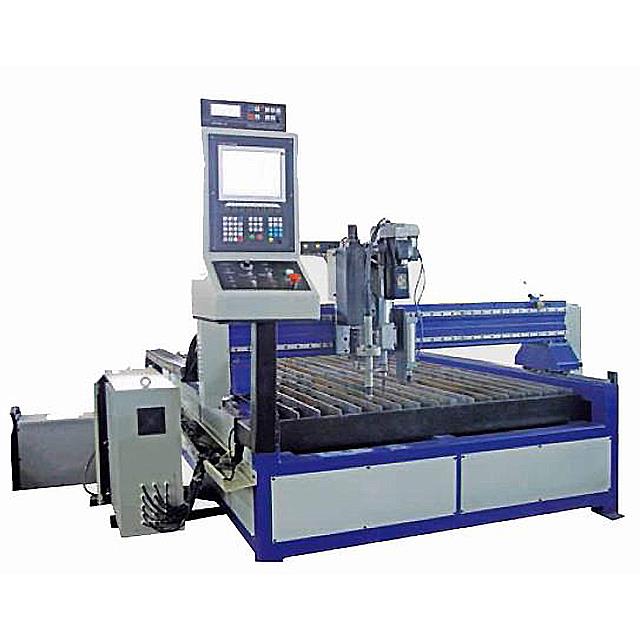 Features>>>
1. Desk type cnc drilling and cutting all-in-one machine is a set of computer control, precision mechanical transmission, thermal cutting in one of the efficient, high precision, high reliability of cutting equipment.It adopts integrated modular design, fast installation, easy to move.
2. Vertical and horizontal guide adopts domestic or imported linear guide, with high precision and good guidance.
3. Servo drive adopts Panasonic servo drive system with position detection function, high motion precision, wide speed range and short acceleration time.
4. Dust removal table or dust treatment device can be optional to create a good working environment.
5. A variety of plasma power supply can be selected to meet the requirements of different metal material cutting
Want to see this table cnc plasma cutter with drilling more im
formation!
More>>
Table cnc plasma cutting machine modle choice:
Model
1325
1530
2040
Working size
1300*2500mm
1500*3000mm
2000*4000mm
Adjustable Height of cutting torch
100mm
Driving mode
Double side driving with marking head
Lifting station
One set for plasma cutting torch
Precision of rise and fall
±0.2mm
Precision of line position
±0.4mm/10m
Transmission system
X,Y Taiwan AMT high-precision,zero clearance increased linear guide+ rack


Z the arc voltage control
No-load travel speed
15000mm/min
Working voltage
3~ 220/50HZ
Control system
Beijing START plasma cutting system


Shanghai Fangling Plasma cutting system
Software support
Starcam, FASTCAM,AutoCAD
Instruction format
G code
Drive system
Stepper motor or Panasonic Servo motor
Plasma power
Chinese Huayuan brand plasma powers 40A to 400A
Power cutting thickness
0.3mm to 30mm
plasma cutting parameters
huayuan power
Plasma Generator
Quality Cutting
Maximum Cutting
63A
8mm
12mm
100A/120A
18mm
25mm
160A
25mm
35mm
200A
30mm
40mm
hypertherm power
45A
5mm
8mm
65A
8mm
15mm
85A
12mm
20mm
105A
15mm
25mm
200A
30mm
40mm
Note: cutting stainless steel is recommended on carbon steel standard basis, minus 3-5 mm, as standard
Want to know this table cnc plasma cutter with drilling more information! Contact us>>
Company specialized in sheet metal processing equipment such as shearing machine; press break; rolling machine; etc and automated welding equipment such as longitudinal & circular seam welding machine; welding boom; ,development, design, manufacture and service of high-tech enterprises.We sincerely welcome customers to visit our factory and negotiate, and strive to provide best quality products and service to our customers.

Want to know this gantry plasma cutting machine more solution&applicaton! More>>
Dalian Mingcheng Machinery Equipment Co., Ltd. was established in 2012.
We are an enterprise specializing in the development and sales of CNC machine tools and automatic welding equipment. Our main products are shearing and folding machines, bending machines, bending machines, punching and shearing machines, presses, hydraulic presses, cutting machines, sealing machines, welding equipment, polishing equipment and so on.
Our international markets currently include the United States, Italy, Russia, Vietnam, Mongolia, Georgia, Turkey, India, the UAE, Dubai, Algeria, the Philippines, Indonesia, Malaysia, Bangladesh, South Africa, Germany, Slovakia, Sri Lanka, etc.
OUR CERTIFICATE