News


Our Russian Customers Came to China to Visit Our Factory!
Release Time : 2023-06-30 View Count : 次
Our customers come from a company mainly engaged in tanks located in Kostroma, Russia, and they are very interested in our dished end machine. This time I came here to take a look at the factory where our equipment is produced and the factory that has purchased our dished end equipment.
Our first offline contact with these customers was in May when our employees were attending an exhibition in Russia. After the exhibition, our employees visited their companies and exchanged the products of both companies. The customers were very interested in the machines produced by our company. Soon they decided to come to China after a long absence and told us the date they expected to come here on June 14th.
These customers arrived in Dalian on the afternoon of June 28th. The company leaders took several customers to the company for a visit and introduced the details of the head sealing equipment produced by us in detail.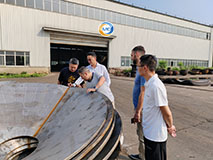 On the second day, our employees took customers to Shenyang to visit our factory that produces head equipment. The details of the machine are discussed here. The accompanying staff explained the details of machine production, the maximum thickness of the head that the machine can make, and how to operate it.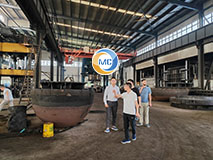 Then we went back to Dalian and visited a factory in Jinzhou District, Dalian that once purchased our head equipment. The customer is very interested in this old machine that has been used for more than nine years and keeps asking about the details of the machine. We discussed the use of this old equipment here, and the customer also carefully checked the condition of the heads made by this machine.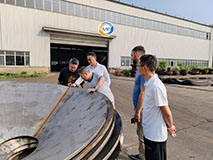 After these two days of communication, the customer expressed that he was very happy to come here for an on-the-spot investigation, thanked us for our warm hospitality, and expressed a strong interest in our products. They hope to have the opportunity to come here next time.
Since its inception, Mingcheng has been focusing on the R&D, production, and sales of sheet metal processing equipment.
In the future, Mingcheng will continue to work hard in this industry, continue to innovate, and provide more high-quality machines for the majority of users.